As people enjoy their golden years in retirement some may experience an unexpected illness or accident. There are times when the recovery will be required or preferred to be administered at home. However, many people have misconceptions as to when or if Medicare covers home health care.
If you have Medicare Part A (Hospital Insurance) and Medicare Part B (Medical Insurance), Medicare will cover certain health care services in your home if you meet certain eligibility requirements as follows.
1. You must be under the care of a doctor and the doctor has established a plan of care, which is reviewed regularly.
2. The doctor must certify that you need one or more of the following;
a. Intermittent skilled nursing care
b. Physical therapy
c. Speech-language pathology services
d. Continued occupational therapy
3. The doctor must certify that you are homebound. This is generally met if non-medical absences from your home are infrequent
and leaving home requires a considerable effort.
4. You need skilled nursing care on an intermittent basis which is less than 7 days per week , or less than 8 hours each day over a
period of 21 days.
5. The home healthcare agency must be a Medicare–certified provider.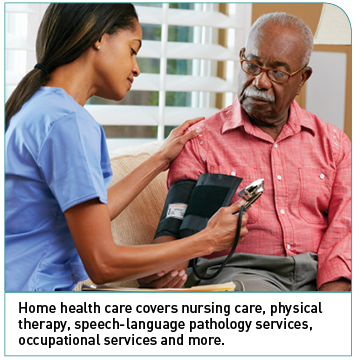 Usually, a home health care agency coordinates the services your doctor orders for you. The home health agency should tell you how much Medicare will pay and the cost of any items that are not covered.
Medicare pays for your covered home health services for as long as you are eligible and your doctor certifies you need them. If you need more than part-time or "intermittent" skilled nursing care, you are not eligible for the home health benefit.
It is important to know what Medicare will not cover. The following are a few examples that are the person's responsibility to cover:
• 24-hour-a-day care at home
• Meals delivered to your home
• Homemaker services like shopping, cleaning, and laundry when this is the
only care you need, and when these services are not related to your plan
of care.
• Personal care given by home health aides like bathing, dressing, and using
the bathroom when this is the only care you need.
Knowing when Medicare covers home health care is important. Even with Medicare coverage, there may be expenses that you could be responsible for covering. Contact your American Republic Insurance Services representative for more information on home health care including the possibility of additional home health care coverage.